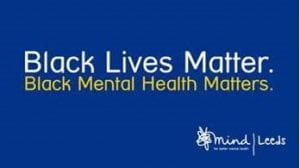 Leeds Mind is marking Black History Month this October, focusing on the Black experience of mental health and the discrimination within the UK's mental healthcare system that still exists today.
Black History Month is the annual celebration of the contributions that people of African and Caribbean backgrounds have made to the UK. In line with our values of respect and inclusion and our vision of better mental health for all, we want to use the month to give Black voices a platform to speak about mental health and the UK's mental healthcare system.
We will be publishing blogs, videos and social media posts, plus we have some exciting news about a service we're launching specifically for young Black men around Leeds (follow us on social and keep your eyes peeled on the website for more info…!)
In more exciting news, we're partnering with Touchstone to create space for our Black staff to share their experiences. This work will culminate with a webinar on the history of colonialism, led by Dr Emily Zobel Marshall, Reader in Postcolonial Literature at Leeds Beckett University on 21st October, 11am – 12:30 pm.
Chief Executive of Touchstone, Alison Lowe, commented: "Black History Month 2020 is more important this year than it has ever been. This is the year of George Floyd, Covid-19 and the realisation that the UK is still a deeply unequal society; even more so if you are Black. Touchstone has been having the conversation about racism and injustice for many years and we are proud of our role supporting underserved people and communities to help themselves to better outcomes – which is their entitlement. This year we will continue to amplify the voices of Black people and we will not stop until real change happens".
Over at Inkwell, Leeds Mind's arts and wellbeing space, we are hosting some online creative sessions around the theme of Black culture. WorkPlace Leeds, our employment and job retention service, will be celebrating Black workplace heroes on their social media channels.
Leeds Mind Chief Executive, Helen Kemp, said: "Black History Month is a wonderful celebration of Black culture and history, and also provides an opportunity to hear about today's Black experience. With our organisation's focus on mental wellbeing, we want to give Black voices a platform to speak about mental health, and about their experience of the mental healthcare system in the UK.
We aspire towards better mental health for all, and yet we know that many are still marginalised within the UK's mental health system. This year more than ever we want to work with the Black community, our partners and anti-racist allies to deliver services that are more inclusive to everyone".