Do one thing this World Mental Health Day and speak out against mental health inequality
It's World Mental Health Day on 10th October 2021, and Leeds Mind is speaking out about mental health inequality alongside Mind, the mental health charity.
The theme for 2021, set by the World Federation for Mental Health, is 'Mental Health in an Unequal World'. So we're working together with Mind and other local Minds to shine a light on the inequality that exists in the mental health system and the inequalities in our society that affect mental health.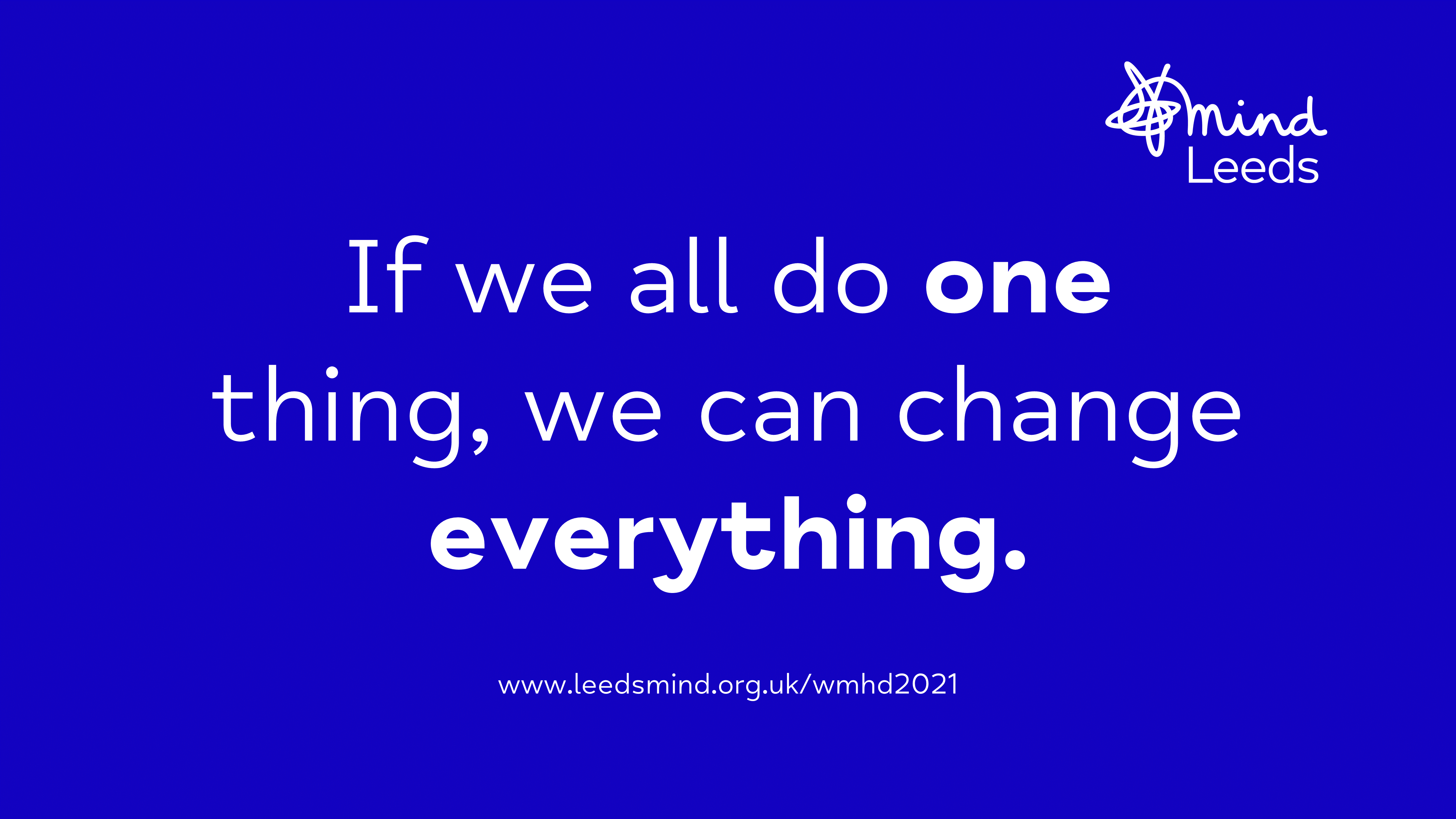 For many years we've fought together for support and respect for those who need us. But everywhere we look we can still see inequalities determined by race, gender, age, disability, sexual orientation and class. Unequal access to mental health support is one factor.
Our population in Leeds is affected by these inequalities, as:
Besides those listed above, there are lots of other Leeds-based communities that suffer health inequalities, but it shouldn't be like this. No one should have to fight for the mental health support so many of us need to cope.
We can change things. And that's where you come in.
This World Mental Health Day is a chance to speak out, spread the word and make change happen.
You can do this by:
Donating to our work – we are striving to be a proudly anti-racist organisation, and we co-produce our services to try to make sure there is equal access for all. Your donations mean we can continue to offer support to everyone in and around Leeds who needs it. Donate here
Fundraising for us – can't donate but want to support us? Join in one of our upcoming fundraising events, including our brand new

firewalk

, or create your own event or challenge.

Get in touch

to see how we can support your fundraising journey
Starting a conversation about mental health inequality –  download our postcard and handwrite a message to send to a friend (

get it here

– once you've followed the link, right-click then 'save image as'), or comment and share content on our

Facebook

,

Twitter

and Instagram.
We'd love you to join in with our cause this #WorldMentalHealthDay, because if we all do one thing, we can change everything.
To see what national Mind is doing for #WMHD, please visit: www.mind.org.uk/DoOneThing
Why not download and send our postcard to start a conversation about mental health this #WMHD2021. Here's an example: