Leeds Half Marathon 2023
Complete Yorkshire's biggest and loudest half marathon and get cheered on every step of the way!
A Leeds Mind Charity place is just £30 with a suggested sponsorship target of £250 – ask your friends, family and colleagues to sponsor your amazing achievement and help us to keep our vital services going for the community!
In return for joining Team Leeds Mind you will receive;
Your place in the race!
Complimentary running top
Fundraising support before, during and after the race
The wonderful feeling that you are helping to support people in Leeds with mental health difficulties (priceless!)
Scroll down to buy your place today! Leeds Half Marathon 2023 – Terms and Conditions
Mark Coverley took part last year and had this to say about his experience:
'The support all around the course was amazing – absolute credit to Leeds's wonderful people. Music playing loud from a hi-fi along Meanwood Road (Keep on running of course!), kids firing water pistols at the hot runners along Stonegate Road, neighbours offering jelly beans and orange slices all around the course, bunting up at Lawnswood with a guy on a stepladder with a hosepipe dousing the runners if they wanted, people with wooden spoons and saucepans making a heck of a racket to cheer people on… just the most fantastic, fun support!'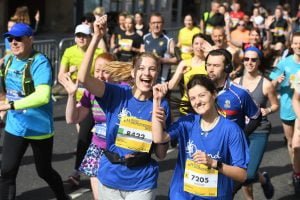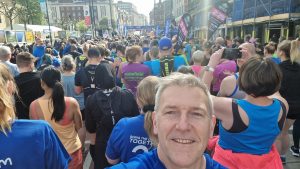 You can also donate to this event here.