The team at Leeds Mind kicked off Mental Health Awareness Week in style – supporting singer-songwriter Anne-Marie's performance at Leeds First Direct Arena to raise money and awareness for mental health.
Playing to a crowd of around 13,000, Anne-Marie – whose songs include hits such as '2002', 'Ciao Adios' and 'Perfect To Me' – gave a shout-out to mental health, with neon text on stage reading: "I didn't care about myself, so I expected nothing from other people."
The text continued: "It's the power of letting things out which is one of the biggest and most valuable lessons I've learned."
The singer has been open about her own experiences of anxiety, and is an ambassador for Mind, the national mental health charity. She invited Leeds Mind to fundraise and raise awareness on the Leeds leg of her national tour.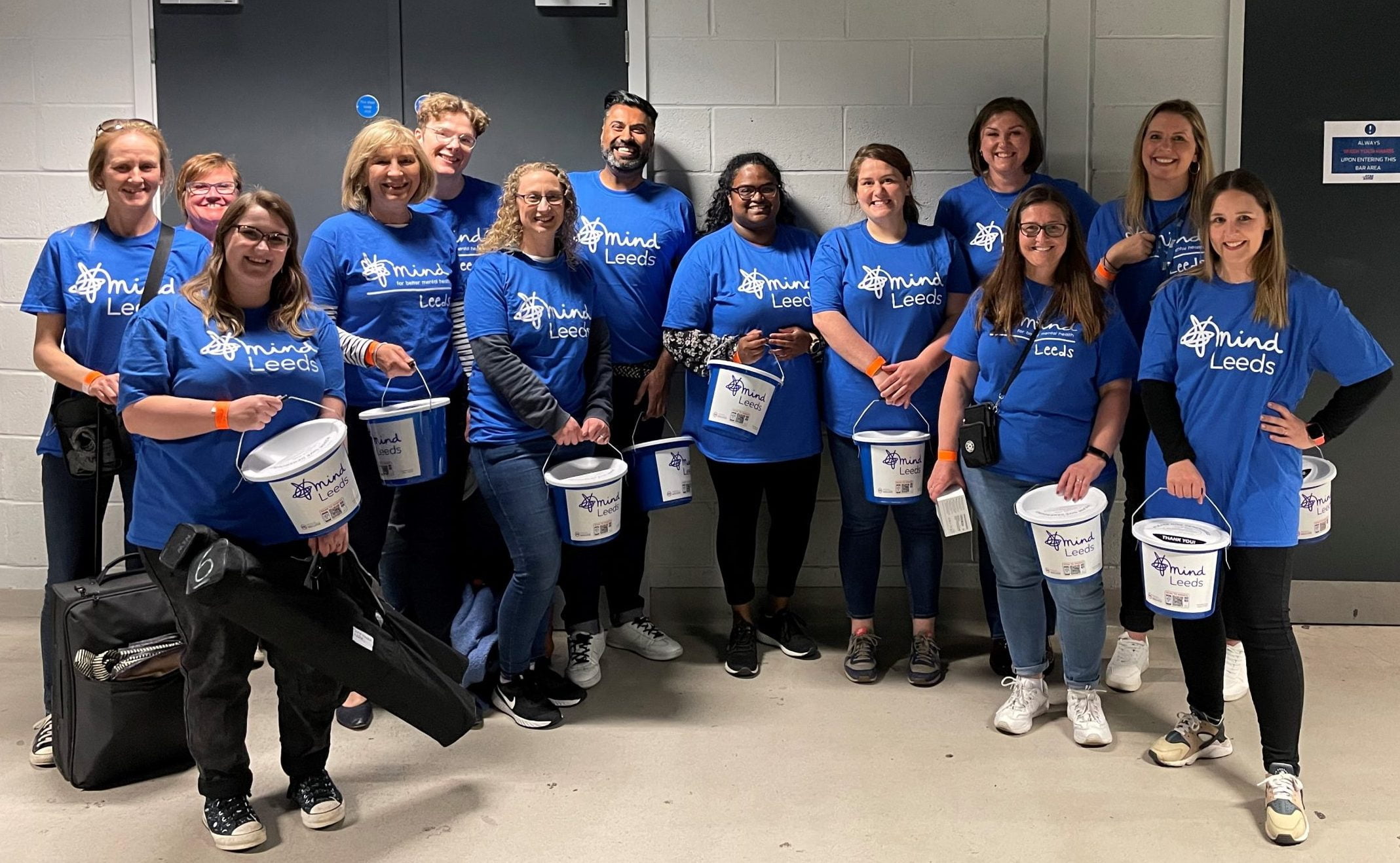 Our team of volunteers ready to raise money and awareness with the gathering crowd.
Our team of volunteers took to the lobby of the First Direct Arena with collection buckets, spreading the word about better mental health to the gathered crowds. Between bucket collections and text giving, we raised a phenomenal £373.19! A huge thank you to anyone who gave on the night.
Leeds Mind messages were shown on the big screen – including stats about how many people had been affected by mental health through the pandemic.
The team was also on hand to talk to anyone interested in seeking support. We had some great conversations with people who talked about how mental health had affected their life – with either themselves or family and friends struggling.
Helen Kemp, Chief Executive of Leeds Mind, said: "We know high-profile people talking about their mental health helps people to feel more comfortable with sharing their own difficulties. It can even help them take that first important step towards seeking support.
"We really appreciate Anne-Marie using her platform to raise awareness of our services and fundraise for us, especially at the beginning of Mental Health Awareness Week. Thank you to Anne-Marie and her team, to our team of volunteers and to everyone who donated on the night! We hope you enjoyed a night of live music and togetherness."
Mental Health Awareness Week is an annual event to raise awareness around mental health. This year's theme of loneliness is particularly poignant as we emerge from two years of varying levels of isolation. If you want to get involved by making a donation, or finding out more about services available, you can visit this page.