We are very excited that our Befriending service is back up-and-running, after we secured additional funding.
We are now looking for volunteers to provide much-needed companionship and support to people experiencing social isolation in Leeds.
The service is now the Leeds Mindful Befriending Service. We aim to match befrienders and befriendees based on mutual interests, in order to create positive and successful partnerships.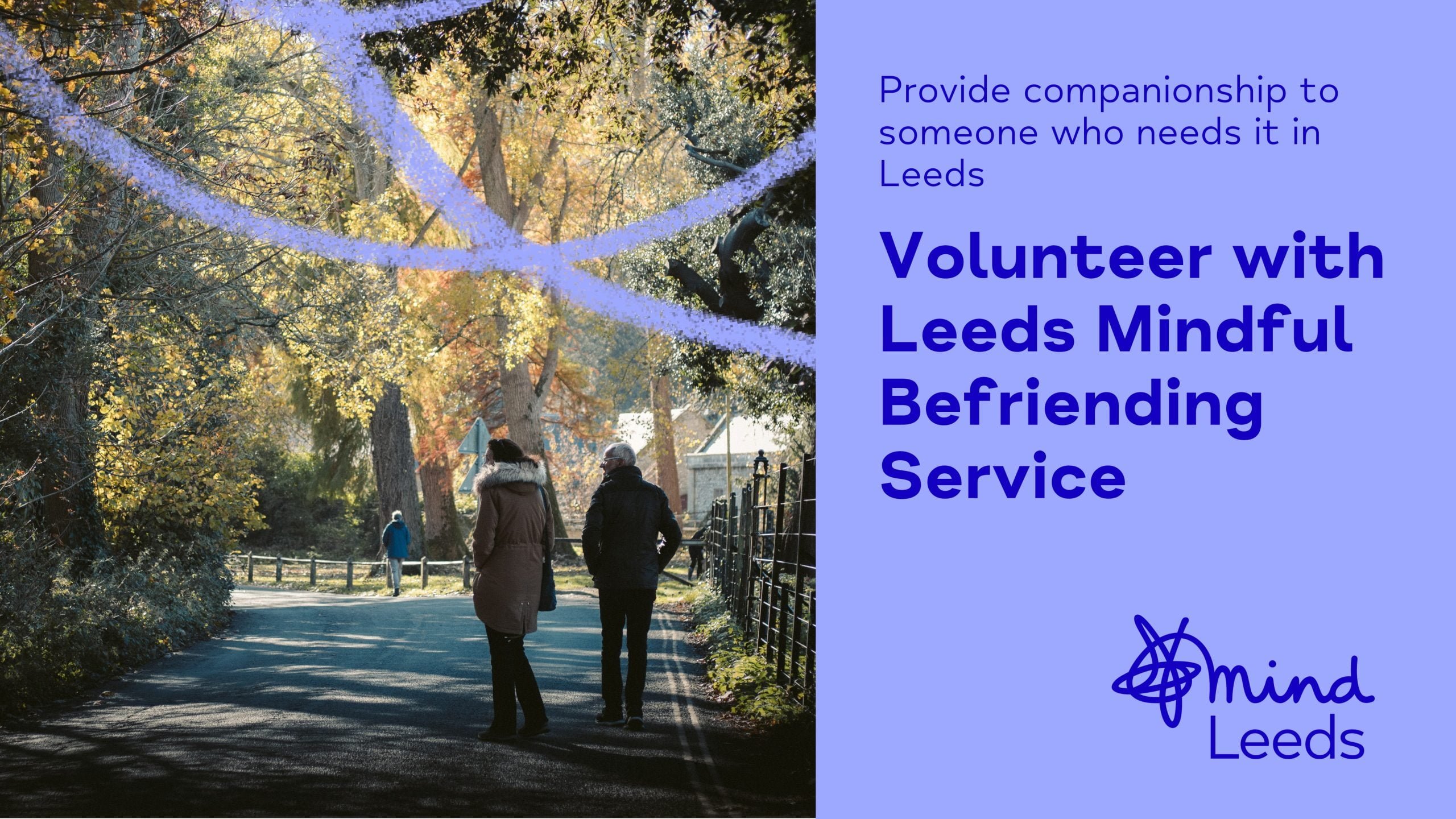 Currently we are offering face to face, phone or Zoom befriending sessions, based on what the individual would prefer, sessions are then weekly on an agreed day and time and last for up to one hour for 6 months. We try to maintain the same person matched for the full 6 months.
We are now taking referrals for clients, and we are also looking for volunteers.
How you can get involved:
If you would like to become a volunteer yourself, please fill out and return our volunteering form to volunteering@leedsmind.org.uk
If you know someone friendly and enthusiastic who would make a good befriending volunteer, then please help us by spreading the word!
Get the volunteer application form
What to expect as a volunteer
When we receive your application form, we'll book in an informal discussion with you, just to confirm your suitability for the role and to answer any questions you may have.
We then request references and a DBS Check (Disclosure and Barring Service Check – e.g. criminal record check).
All volunteers will complete full training and an induction into the role. You will receive training in Mental Health Awareness, as well as introductory training on Safeguarding; Equality & Diversity; Working Safely and Data Protection.
You'll then provide companionship and support to the person or people who need it, building up their confidence and helping them to engage in the local community.
You can volunteer anything from just one hour per week once you get started.
The volunteer experience
One of our previous befriending volunteers, Charlotte, said: "I'd highly recommend volunteering as a Befriender, it's such a wonderful experience and is super rewarding. I volunteered during the first lockdown, and it gave me a real focus each week and sense of routine which in turn helped with my own wellbeing. It's a great way to share positive experiences and it's lovely meeting someone new who you'd perhaps not cross paths with day to day."