As Leeds Mind launches its suicide prevention training course, 'A Life Worth Living', Leeds Mindful Employer Network Project Coordinator, Leigh Staunton, speaks to Training Lead, Andrea Wallman, about this new training course in more detail.
Why did you want to bring the 'A Life Worth Living' training to the city of Leeds?
Preventing suicide is so important to Leeds Mind. Much of our early intervention work helps with this, as we aim to support people before they become so ill that they're contemplating suicide. We even have a project where volunteers who have been impacted by suicide in some way are working together to make change in the health and social care system in West Yorkshire. The project's overall aim is to help prevent suicide.
Washington Mind (a local Mind based in the North East of England) has had great success with 'A Life Worth Living', and we were lucky enough to be part of a pilot programme with them. We'd also had many conversations and requests locally, from workplaces who wanted to be better equipped to discuss the topic of suicide with more confidence.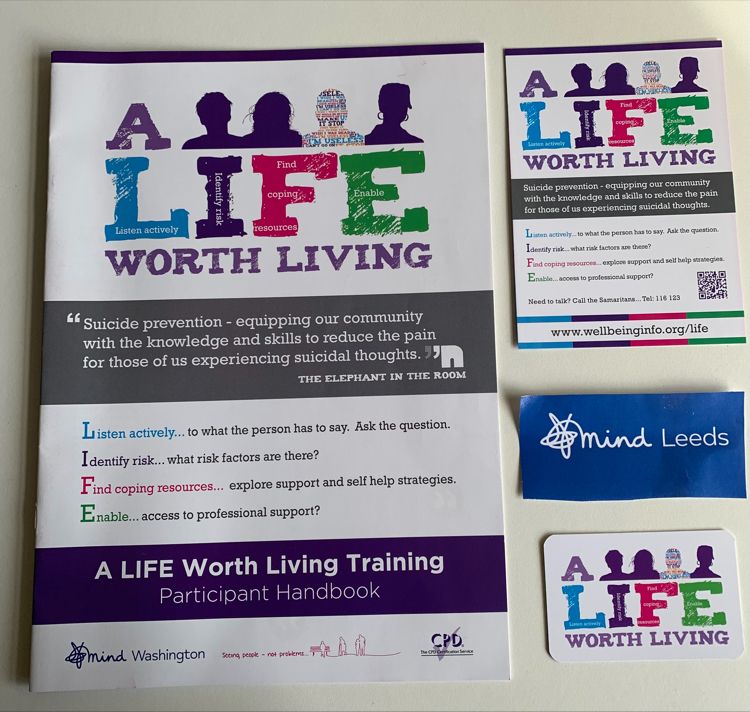 It's something that we've offered in the past, and it always got fantastic feedback. We're so pleased to be able to bring 'A Life Worth Living' back to Leeds, as we know the appetite is there in Leeds to break the stigma and improve conversations around suicide.
This training is suitable for everyone and has a community approach to suicide prevention and intervention, helping to tackle the stigma associated with suicide and reaching people and their families.
Why do you think it's important that organisations put things in place to help build employees' confidence around conversations about suicide in the workplace?
People are often worried about making a situation worse and 'saying the wrong thing'. Suicide prevention training can help people understanding that this is a myth and increase confidence about having a conversation which might include saying 'are you having thoughts of suicide'?
'A Life Worth Living' training does three main things:
Equips workers and volunteers from any sector with the confidence, skills and knowledge they need to offer support and information to a person who is potentially feeling suicidal
Provides them with the knowledge to signpost people to local support, and to help them access the relevant pathway

Reduces suicides
Tell us a bit more about the LIFE model and how it can be used
The LIFE model is there to aid learning. We give delegates a small card to keep with them, but we work through this during the training, with case studies to apply it to a realistic situation. The LIFE model stands for:
Listening…to what the person has to say. Ask the question.
Identify risk…what risk factors are there?
Finding coping resources…explore support and self-help strategies.
Enable…access to professional support.
How will 'A Life Worth Living' be delivered?
The course is delivered face to face (max. 16 people) or online (max. 12 people), and both options are 4 hours. Each delegate receives a handbook to complete during the course and to take away. The course is a mixture of presentations, film clips, small and large groups discussions with case studies and interactive activities.
We always recommend face to face, but each workplace has different needs, so both options are available.
What can attendees expect to achieve from attending 'A Life Worth Living'?
Upon completion of the training, delegates will have developed competencies in the areas of skills, knowledge and attitudes associated with suicide prevention. This includes increased confidence in suicide awareness and prevention.
The course requires delegates to attend all 4 hours, and they will receive a certificate and 4 CPD points. The course is quality assured by Washington Mind and all feedback is sent via them.
We know you've already started delivering the course, what's the feedback been like so far?
It's been great, we've had more bookings as a result of running our first courses.
One delegate said:
"I found the course incredibly educational and insightful and feel I will be able to help look for signs and help someone who is experiencing suicidal thoughts. I also feel much more confident about raising the subject with someone and asking questions…everyone should have access to this course to help save lives and raise awareness."
Have you got a final message for Leeds employers with regards to the 'A Life Worth Living' course?
I'd recommend this course as part of any learning and development programme, even if there are only one or two people per organisation who attend the training. It can be out of some people's comfort zone to talk or think about suicide, but the statistics show we all need to be able to have these conversations in order to reduce the stigma and suicides.
We are running some open access courses in December 2023, where people can book individual places. We will also offer more open access opportunities in 2024. Please contact training@leedsmind.org.uk for further details.