Content warning: suicide, suicide bereavement, stigma around suicide, grief
All staff in our Suicide Bereavement Services have lived experience of someone in their lives dying by suicide. This allows them to deliver the compassionate and practical support that we are known for.
Here, Elliot Gorman, one of our Postvention Practitioners, shares why Christmas might be hard for those dealing with a suicide bereavement, and how they can look after themselves this festive season.
With Christmas almost upon us again, it's normal to feel unsure about how you're going to cope at this time of year when you've lost someone to suicide.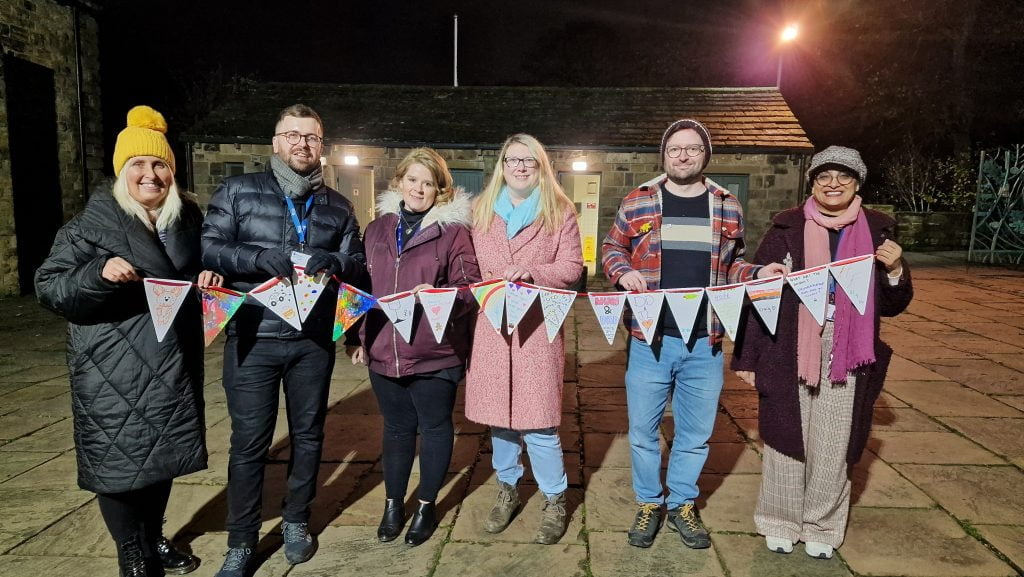 Our suicide bereavement team at a recent memorial event. 
This can be because Christmas is a time when it seems like we're supposed to be "happy". Christmas adverts show jolly, festive faces while everyone's on the countdown to 'the big day'. It can seem as though everyone around us is enjoying family time or socialising with friends. Yet for some of us, happiness at Christmas can seem unattainable, because no matter the gifts or support we receive, it will never bring back those we have lost. On the other hand, when we do enjoy ourselves, we can end up feeling guilty for having a nice time despite our loss.
Christmas might also have been a time of year when we're more likely to have seen the person we've lost to suicide – at family get-togethers or Christmas Eve drinks at the pub – so this can bring them even more to the forefront of our minds. If the anniversary of a death falls during the season, this can be even harder.
So how do we balance grief, self-care and celebration at Christmas…? Here are some tips to help ease the pressure of what can be a tough time of year:
Make a plan (but know that it's OK to be unsure)
It's good to try to figure out what we want and need and plan accordingly, but it's also good to accept that we might not know, and to know that that's OK too. We can't predict how we're going to feel on any given day.
We can tackle this by having a Plan A and Plan B. By giving yourself safety nets and escape routes, it can sometimes feel easier to enjoy things knowing that we can easily and comfortably leave if we want to. Most of all, go easy on yourself and those around you should things not go to plan.
Set boundaries and communicate your needs
If you're being asked to do things over Christmas, reflect on whether it's something that you want to do.
If you know it is not something you want to do, it is OK to politely decline an invite. You don't have to explain yourself to anyone, but if you feel comfortable with the person, you could explain that you might find Christmas hard, so you're saying no in order to look after your own wellbeing.
If the invitation is for something that you'd like to do, but you're not sure how you'll be feeling on that day, try to communicate this with the people involved. You could say: "I would love to join you at the pub, but I know I will find Christmas difficult since losing [the person you've lost]." Then you can set your own boundaries – for example, "I will only come for an hour or two", or "I will come, but I may leave a little early".
For some of us, we might get fewer invites than before. Especially during the early time after a loss by suicide, we can experience friends or family distancing themselves if they're not sure what to say. While this can be hurtful, finding a way to communicate your needs to them can help. If you would like to do something over Christmas but haven't been asked anywhere, consider who you might contact to make something happen. Alternatively, you could look into whether there are any community events you could go to.
It's also important to set boundaries with social media. Social media can create unrealistic ideas of what Christmas "should" look like and can heighten emotions at what can be a difficult period. Taking time away to protect your own wellbeing can be helpful.
Continue grieving
It can feel as though there's pressure to put grief on pause during the festive period, but since this is impossible, it's important that you continue grieving. Our grief journey never ends but coping with it can become easier over time through positive practice. You can do this by:
Talking about the person you have lost. Remembering the good times you have shared with this person can help raise spirits and make Christmas that little bit more enjoyable. This might also help another friend or family member that doesn't feel sure whether they should talk about the person who died.
Taking the pressure off yourself. While this is easier said than done, remember that Christmas is only one day of the year. So why should looking after yourself be changed because of Christmas?
Taking time. The whole day doesn't have to involve grieving those you have lost if you don't want it to, but allocating a time to reflect, either on your own or with others, can help give you the permission to enjoy Christmas once again. Allocating time could mean lighting a candle for the person you have lost, visiting a place they enjoyed or listening to a song they loved.
Prioritise looking after yourself, even if that feels uncomfortable
It's essential during times of grief to take care of yourself, but it can feel uncomfortable putting yourself first. It's important that we prioritise self-care, as we are unable to take care of others if we don't put our needs first (you can't pour from an empty cup!)
Give yourself permission to not be OK. Allowing yourself to feel the all the emotions you may experience is important.
Connect with family or friends. This may involve a nice walk together, playing a board game, baking in the kitchen or even something as simple as sitting in the same room having a conversation.
Do nothing. Doing nothing can be something. It can mean having a break and being kind to yourself.
These are some helpful tips that can be used at Christmas, but the message here is to lessen the pressure and not conform to social ideals especially when grieving. Do what feels right for you. Remember, be kind to one another, but more importantly be kind to yourself.
From everyone at the Leeds Mind Suicide Bereavement Services, we wish you a wonderful, restful festive period.