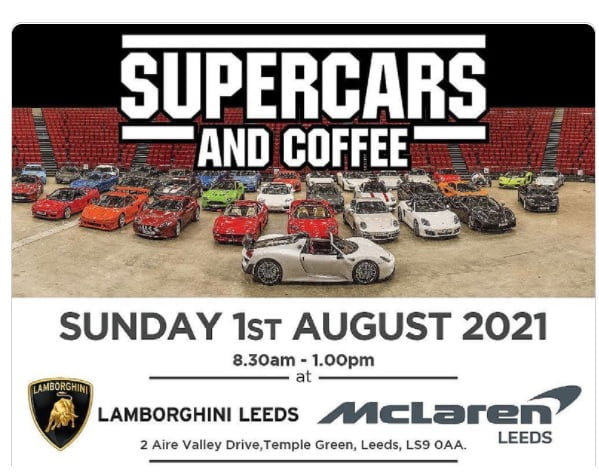 Supercars and Coffee – the event from Leeds Supercar Meet that saw more than 100 high-performance, luxury sports cars gather in 2019 to raise money for charity – is back for 2021 on 1st August.
The event will be held at McLaren and Lamborghini Leeds (2 Aire Valley Drive Temple Green Leeds LS9 0AA) on 1st August 2021, 8:30am – 1pm, with the supercar convoy arriving at 8:15am.
Park and ride will be available at Leeds Skelton Lake Services (M1 J45, Leeds, Yorkshire, LS9 0AS), and you do not need a ticket to attend. Toilet facilities, food and refreshments will all be available on site.
Entry is free, but money raised on the day will be donated to Leeds Mind.
Speaking on the family-friendly event, Jason Holman, Director of Leeds Supercar Meet, said: "Like many big events, Supercars and Coffee had its plans put on hold for 2020. We've since had two more dates postponed, so we're really looking forward to making it happen now.
"A number of my close friends have died by suicide – including people in the public eye – so I'm really passionate in making sure that no one else has to face a mental health difficulty alone.
"In 2019, we managed to raise £5,000 towards Leeds Mind's work of better mental health for all in our community, and we're hoping to make it even bigger and better this year!"
Gemma Green, Fundraising Officer for Leeds Mind, added: "We're so grateful to Jason and the team for making this happen. With so many setbacks, they've remained determined to give people a safe and fun day out after the difficult year and a half we've all endured.
"It's going to be a great day out, and one not to be missed!"
Follow Leeds Supercar Meet on Instagram for updates.
Appropriate Covid safety measures will be in place.