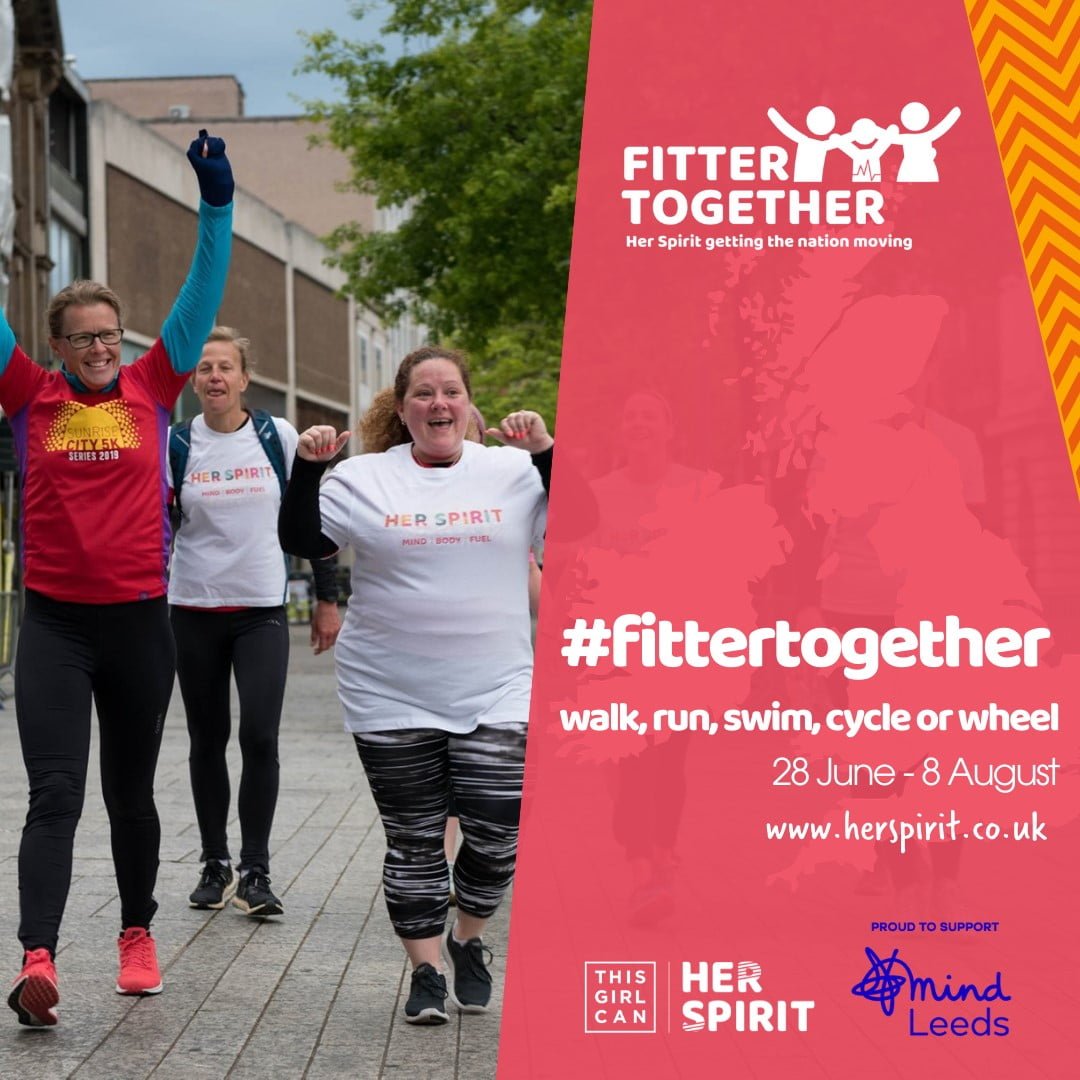 Leeds Mind is excited to be involved in a nationwide campaign that aims to get us moving for the benefit of our physical and mental health.
#FitterTogether was created because almost 73% of Britons are struggling to meet the NHS healthy lifestyle guidance, while 76% of the population is said to be experiencing mental health difficulties.
In response, the Her Spirit community, supported by Hillary's, is challenging the nation to come together over 6 weeks to raise their fitness levels and vital funds for our work here at Leeds Mind. Funds will also go towards a local Mind in Nottingham, where HER Spirit was founded, and Open House Nottingham, an organisation that supports women with perinatal mental health (that's your mental health from when you become pregnant up until a year after giving birth).
Sign up is free, and everyone can take part – it's not just for women or those who identify as women. You simply set your target distance, connect to Strava, and walk, run, swim, cycle or wheel your way to a fitter, stronger and healthier summer. The challenge is open now and runs until 8th August.
Mel Berry, Her Spirit co-founder said: "The benefits of physical activity on mental health is one of the critical things that drives the Her Spirit mission to change the diet and fitness industry, both for us now and for future generations.
"#FitterTogether gives everyone an opportunity to get active for the good of their own mental wellbeing, as well as raising vital funds to help others."
Myriam Barker, Fundraiser Team Leader at Leeds Mind, added: "We're so excited and so thankful to have been invited to be a part of #FitterTogether. It's a fantastic initiative to get people moving, and get them thinking and talking about the link between physical activity and mental wellbeing.
"There's a team of us here at Leeds Mind taking on the challenge ourselves, so we'll be right there with you! Get together with your workmates, your friends and your family, and let's get #FitterTogether in the name of mental health."
Sign up to take the challenge here: https://fitter-together.raisely.com/
Let us know how you're getting on – use the hashtag #FitterTogether in your social posts, and/or tag @LeedsMind
Got any questions? Please feel free to email us on fundraising@leedsmind.org.uk