Our fundraising campaign, Carry the Burden, challenged people throughout October to carry an object of their choosing for 24 hours, to represent the invisible burden that those of us with mental health difficulties can feel as though we carry every day.
It's impossible to list everyone who took part, but please know we are thankful to each and every one of you! Below, we hear from people who took part this year, on what motivated them and how they found the experience.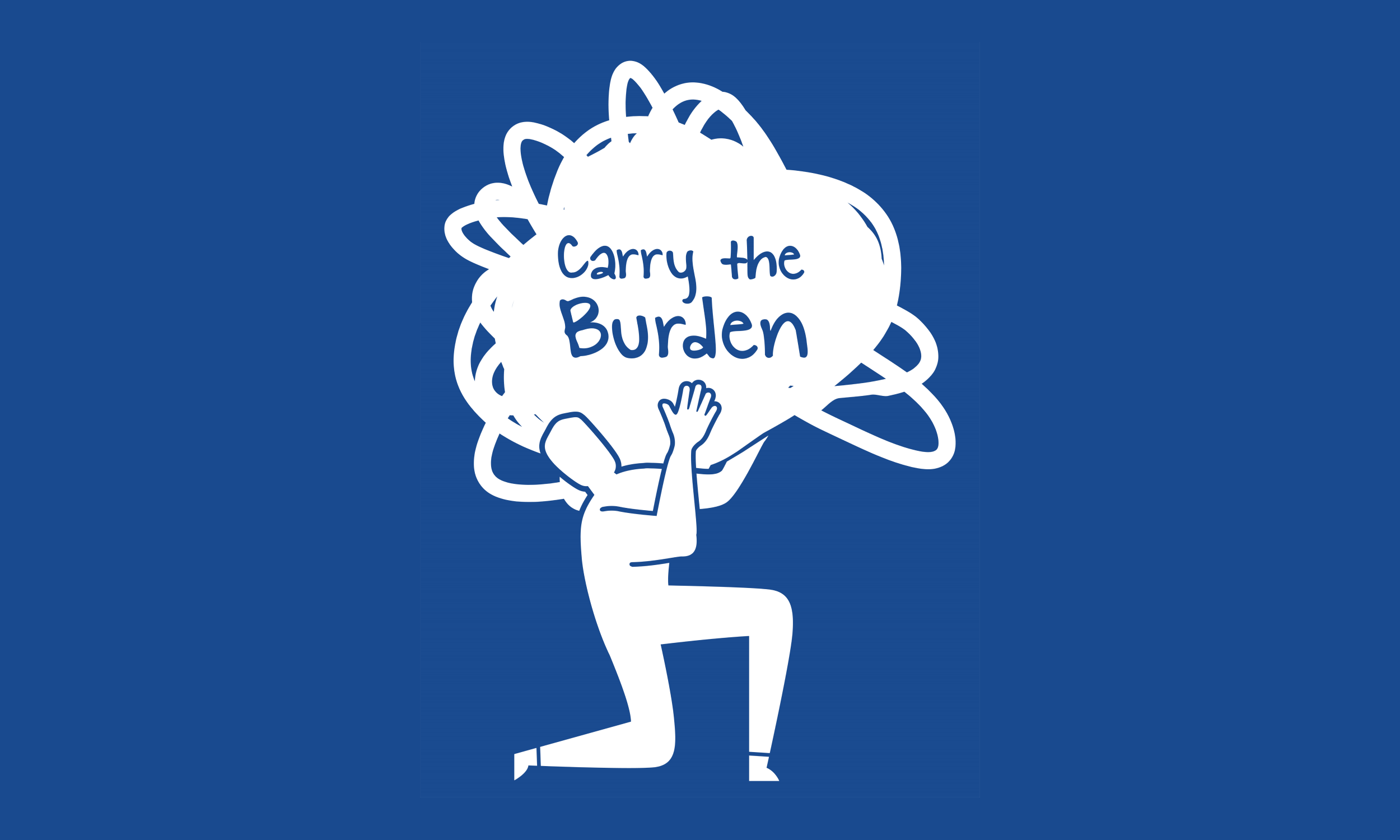 Individuals from the community
Tom Gilroy
"I chose to carry the burden because I have seen the damage to individuals and families that mental health issues can cause if not diagnosed and treated. A big part of mental health issues going undiagnosed is because people are still afraid to talk about their own mental health. The only way that we can break the stigma attached to mental health is to talk. We all need to talk more. We need to make time to have conversations with people and to show each other that we care enough about them to listen. Leeds Mind is a charity which does great work in the local area. I figured a good way to raise some funds and get people to talk more was to do the carry the burden challenge. And what better way to get people talking than to walk around with a two foot teddy bear all day?"
Kim-Joy Hewlett
Kim-Joy (baker, cookbook author and Great British Bake Off Finalist series 9) took part in our #CarryTheBurden challenge, sharing her experience with her more than >250,000 Instagram followers! Kim-Joy chose a biscuit as her item to carry, "cause it can be easily broken and I have to keep it whole all day. It's constantly on my mind and I have to be careful not to put too much pressure on it. Other people might not see it as being important, but it is to me. So there are many parallels…" Kim-Joy's biscuit broke not long into her 24-hour challenge, and she mused: "mental health problems are tons harder to deal with daily."
Sarah Clarke and Friends
Local resident Sarah Clarke originally aimed to raise £250 by taking part in #CarryTheBurden. But Sarah rallied round her friends and local community, and got a whole army of people involved! Between them, they have raised over £2,200…that's 900% of Sarah's original goal! By carrying an odd assortment of objects in the local area during the school run and outdoor exercise, the group certainly got a conversation started, and helped to raise awareness of the importance of talking about our mental health.
Futures
Futures is a Leeds-based recruitment company, and the team there recently chose us for their annual charity partnership. As the first event in this partnership, the team raised a fantastic £650 through #CarryTheBurden, carrying all sorts of items, including a clothes airer, a lucky cat and a weighted backpack. Here's what some of the team had to say:
"So many people are currently struggling but feel unable to talk about it (especially during these weird times of uncertainty and isolation!), it's so important to raise awareness and destigmatise discussions around mental health difficulties. I chose a cactus because being immersed in nature always clears my mind."- Resourcer, Futures
"I know that a healthy mind a significant part of a healthy overall lifestyle, and I feel it's very important to keep everything in check. I'm happy to be supporting Leeds Mind – the work they do is vital for everyone's overall mental wellbeing."  Consultant, Futures
"Mental health is something that is likely to affect us all at some point in our lives, I have had bad anxiety in the past and there are still days where it suddenly creeps up on me again. Charities like Leeds Mind help people to overcome these days by providing the support we may need." Resourcer, Futures
JBAndrews
JBAndrews is a global recruitment business based in Leeds. The team all took the challenge on the same day, so the office was full of inflatable doughnuts, dumbbells and a literal ball and chain amongst other random items. As well as getting the team talking about mental health, they raised a staggering £2,599 (433% of their original target!) Here's what a few team members had to say:
"Mental health is an important topic for us at work, having supported Leeds Mind in the past. The 'Carry the Burden' campaign was a fantastic way for us to not only revisit mental health as a topic in our office, but also raise money for a charity who do so much great work within our city. The initiative itself was a great idea, carrying an object around for 24 hours really is much harder than it sounds!- which is why the campaign portrayed the image of living with mental health problems so well." Jeremiah Bavington
"Leeds Mind is a charity close to our hearts at JBAndrews. We all know somebody who has suffered with Mental Health issues, and since we started in 2018 it's a cause we wanted to contribute to in any way we could for this reason. Carry The Burden was a great opportunity for all of our staff to gain an insight into what it can be like for somebody suffering with the invisible burden of Mental Health issues – we had some great ideas for what was carried including a sack of potatoes, a blow up Alien costume of the Alien carrying the human, a fake pregnancy belly with 9lb worth of weight inside it, and many others. It was great to see everybody take part and even became a highly effective team bonding day too!" Ben Liggins
"I chose to take part in the Carry The Burden Campaign to raise awareness for all the people that struggle with their mental health. Having experienced somebody so close to me suffer with depression really opens your eyes to see how difficult it can be. I chose to carry a pool float to represent all the summer plans that were affected by COVID and the affects that this would have had on some peoples mental health. Some people rely on social interaction and plans to look forward to, to stay positive and healthy and without this they could have really struggled." Shauna Starr
"Mind is such an important charity and Mental Health is an issue close to our hearts, as we all have either directly or indirectly been affected by mental health struggles. We will always continue to support Mind and hope that more can be done to support those who need it, at the time when they need it the most." Dan Allcock
More to come – The Waste Team
The Waste Team got in touch recently with an extremely generous offer – they wanted to donate their advertising space around Leeds to spreading a message of hope and support for those struggling with mental health with the second lockdown coming up. This advertising space is worth thousands of pounds, so we are extremely grateful for their generosity! As if this wasn't enough, the team is also taking part in #CarryTheBurden in early November. Look forward to seeing what the team can achieve 💪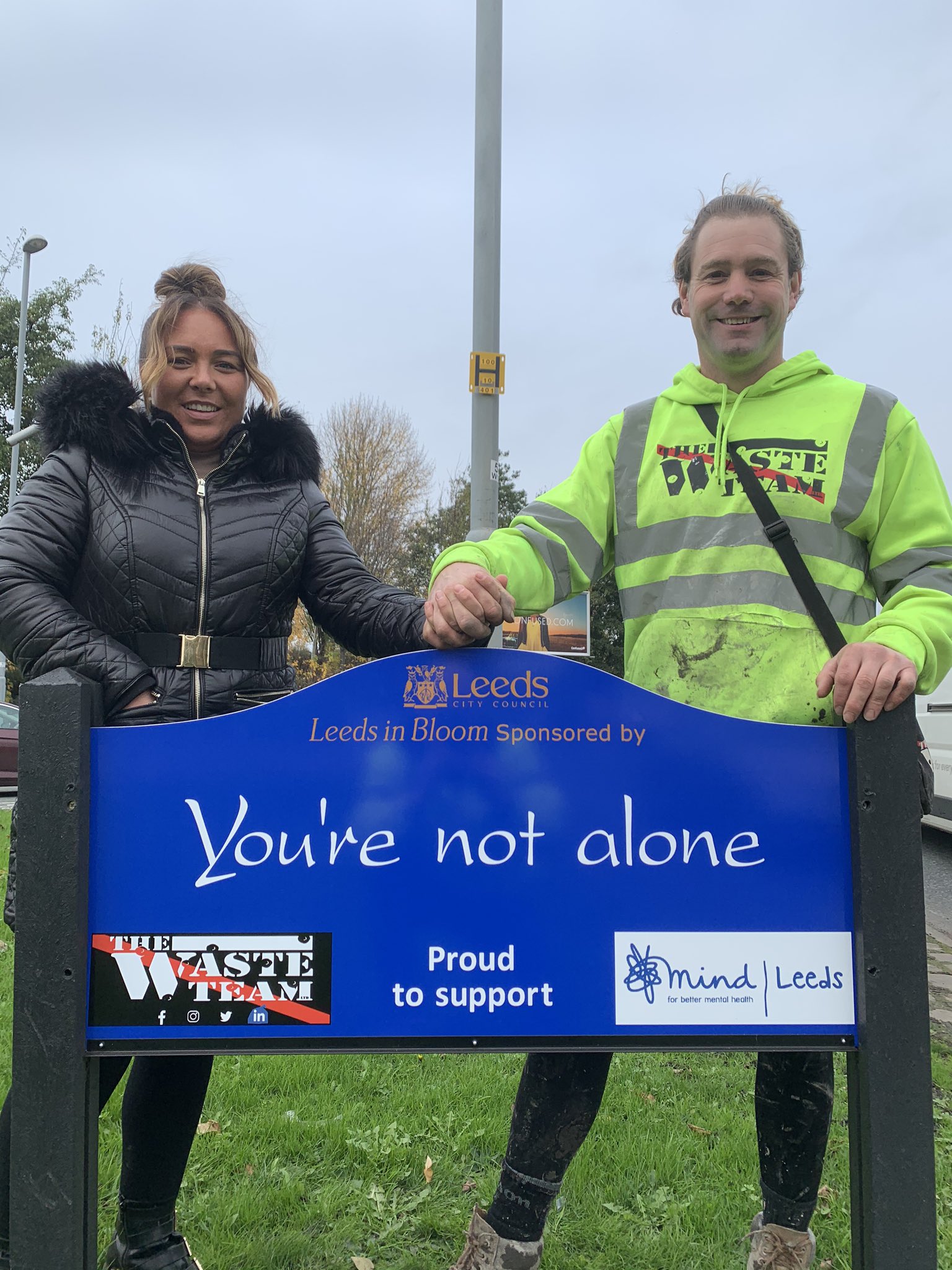 The whole team at Leeds Mind would like to extend a massive thank you to anyone who took part, donated or cheered someone on. With our fundraising impacted so much through COVID-19, your support has provided a fantastic boost to our work in supporting people's mental health through this difficult time, which feels more important than ever.
We'll be hosting #CarryTheBurden again in 2021, during May for Mental Health Awareness Week. Find out more and register your interest here.